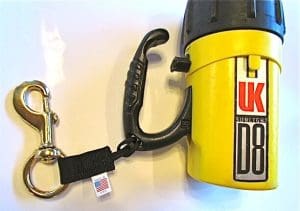 Our dive gear attachment clips, gear keeper will work on all SCUBA diving  gear, dive lights, spearing fish stringer, stage bottles, game bags, spear guns and just about anything you can take on a dive.
As you can see from the photo it has a sewn in loop of cord at the bottom. To attach the clip to a piece dive gear, you just need to pass the looped cord around or through the item, then bring the loop back over the clip and pull tight. It will pull tight much like a slip knot.
Our attachment clips come in two sizes in brass or stainless steel. The standard length will fit around A 1/2″ circumference and still pass back through the clip.
Some divers just put them on there BCD d-ring and clip their gear in.
Contact us for custom lengths. Made to last a life time.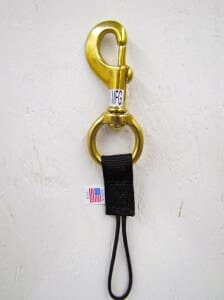 MADE IN THE USA